The Intercontinental Park Lane chooses Housewater

From opulent seafood in South Shields to five star London. The Intercontinental Park Lane has chosen Housewater in its drive for better ecology. With conferencing facilities catering for 1,000 people and 400 bedrooms to consider the transition from traditional bottled water to Housewater was a significant one and it is paying dividends both financially and ecologically as we move towards the summer months.

Colmans Seafood Temple in South Shields

Good luck for the eagerly anticipated opening of the spectacular Colmans Seafood Temple in South Shields. Originally in the 1920's it was the bandstand which had fallen into disrepair, Colmans have rescued and completed a total transformation of the iconic building into a 21st century seafood restaurant with a cocktail and oyster bar and takeaway. Using only wild fish from sustainable fishing grounds and turning leftover oil into bio fuel, Colmans choice to use Housewater is the ideal partnership.

Cancer Research's Dining With The Stars Fundraiser

Housewater are proud to be the water sponsor and supplier for Cancer Research's Dining With The Stars fundraiser. Michelin starred chefs Jason Atherton, Tom Sellers,
Alyn Williams, James Knappett and Jean-Philippe Blondet are coming together to cook a sumptuous 5 course dinner to raise money for the Booby Moore Foundation.

Chef Mark Hix receives an MBE

Congratulations to long standing Housewater customer Mark Hix on receiving an MBE in the New Years honours list for services to hospitality.

Housewater available in Corazón, a taqueria in Poland Street, London

Corazon Taqueria is a New Mexican-style Taco restaurant from former Corbin and King General Manager Laura Sheffield and our latest Housewater customer. Opened on Poland Street Soho and serving up a delicious menu to be enjoyed with Housewater and maybe a cocktail or two from their fantastic menu.
Housewater and The Cavendish, Piccadilly

We are pleased to have been selected by 4 star luxury hotel The Cavendish, situated in the centre of Piccadilly and Mayfair London we are helping them to continue to reduce their carbon footprint with our ecologically based on site bottling whilst also enhancing their corporate identity with our high quality co-branded bottles.

A Festival of Nordic Style Cooking in Edinburgh

The Daily Telegraph have recently featured long term Housewater customer Timberyard in their "A Perfect Stay" feature for Edinburgh. The article confirmed what we already knew! The Radford family's conversion of a former warehouse provides according to the Telegraph intimate space, wood burning stove, a Scottish twist on Nordic style cooking and efficient service. Which adds up to "close to a perfect restaurant"
Housewater installed a unit at the premises when the restaurant opened in 2012 to enhance the restaurants commitment to sustainability, quality and local provenance.
We are delighted to continue providing our service to what has become one of Edinburgh's destination restaurants.

The Magpie Cafe in Whitby

Another Housewater location gets the full ten stars from AA Gill.  We know how fabulous the food and Housewater is at The Magpie Cafe in Whitby and now
so do all The Sunday Times readers. Congratulations to Ian, Paul and all the team at The Magpie.
The White Hart in Welwyn

Well done to brothers Tom and James Bainbridge on completing the full refurbishment of their hotel/restaurant The White Hart in Welwyn.  already having pub/restaurant The Tilbury in Datchworth we wish them great success with their second venture.
Caravan Bankside now Open

Housewater are delighted to be part of the opening of Caravan's third restaurant site in Bankside. Open all day for breakfast, brunch, lunch, dinner and everything in between from 31st October we wish you luck.

Clipstone Restaurant

Congratulations to the team at Clipstone, sister restaurant to the Michelin Star Portland on the glowing reviews received after opening in July. Achieving the full ten stars from The Times A A Gill is an impressive start.  Housewater are so pleased to have been chosen to be your water suppliers.

Restaurant Pea Porridge, retains Bib Gourmand from ‪Michelin‬

Congratulations to Justin Sharp (head chef-proprietor) and his wife Jurga at Bury St Edmunds restaurant Pea Porridge, on retaining their Bib Gourmand from Michelin. They were also awarded an outstanding wine list award from ‪The Good Food Guide and 2 rosettes from ‪the AA Guide‬.

AA announces new Multi Rosette Awards

Congratulations from all at HOUSEWATER to Portland, Great Portland Street, London on being awarded the fantastic three AA Rosettes.

AA announces new Multi Rosette Awards >>
Visit Portland here >>
3 of the best choose Housewater

OpenTable, the world's leading online restaurant booking service, has released its annual list of top 100 best restaurants in the UK, based on reviews left by verified diners. 3 of our restaurant clients The Typing Room, Portland and The Quality Chop House appear in the top 100 and all chose HOUSEWATER as their water supplier.

Visit Top 100 UK best restaurants 2015 based on diner reviews here >>
Awards for lovely Lakeview Linthwaite

The Linthwaite House Hotel overlooking Lake Windemere is one of Housewaters earliest clients and has recently received a crop of well deserved awards including winner of the Good Hotel Guide Editor's Choice 2016 awards for Romantic Hotels, named in The Sunday Times as one of their 100 Best British Hotels, Winner of Lake District Life food & drink hotel restaurant of the year awards 2015 and awarded Best Service by Conde Nast Johansens 2016. Congratulations from HOUSEWATER, proud and pleased to continue our long term relationship with Linthwaite House.

Visit Linthwaite House here >>
Star Quality

After providing a system at the revitalised Quality Chop House In Farringdon Road back in 2012. HOUSEWATER installed a system when Portland, Great Portland Street opened just under a year ago. It is the newest restaurant to receive a Michelin star this year.
1 Michelin star
Who's the chef? Merlin Labron-Johnson
Why it's rated: The Portland is the newest restaurant on the list and comes from the same people behind Quality Chop House. It opened to rave reviews in January and has been a huge success with the nearby BBC too. It even got a perfect 10 from AA Gill who said "This is all of the best of modern eating, with the nonsense, pretension and snobbery left out."

Further award for The Cranleigh Boutique

HOUSEWATER client The Cranleigh Boutique has won the national award in the 'Best Use of Social Media' category (up to £25,000) at the prestigious 'Travel Marketing Awards'. The accolade was presented to the small Lake District Hotel in front of an audience of hundreds.
The Cranleigh Boutique in Bowness-on-Windermere was founded in 2007 by owners Stephen and Louise Hargreaves and has become the destination of choice for those seeking a luxury break in the Lake District.

In February 2013, it was named the most romantic destination in the UK, and 3rd in the world, by travel site, Trip Advisor. Stephen & Louise installed a HOUSEWATER system shortly after seeing us at the Hotelympia exhibition in Feb 2012. They also took advantage of our co-branding facility for the designer HOUSEWATER bottles to enhance their brand awareness.
Visit The Cranleigh Boutique here >>
Visit TripAdvisor here >>
Housewater at home in Hoxton

HOUSEWATER are very pleased to add the just opened 8 HOXTON SQUARE to its list of customers located in hip East & North London. Luke Wilson and Cameron Emirali from critically acclaimed Soho favourite 10 GREEK STREET are behind the new restaurant.
8 HOXTON SQUARE will be similar but not identical to the Soho operation with a seasonally led daily changing menu and interesting well priced wines and drinks. 8 HOXTON SQUARE is well worth a visit as is 10 GREEK STREET.

This latest venture adds to an interesting and eclectic mix of HOUSEWATER clients in the area which include THE TOWN HALL HOTEL, CORNER ROOM, TRAMSHED, TRULLO, BEAGLE AND SAGER+WILDE.
Visit 8 Hoxton Square here >>
Visit 10 Greek Street here >>
Trullo Madly Deeply

Gently refurbished recently, HOUSEWATER client TRULLO opened in June 2010 and continues to win plaudits from press and public alike. With seasonal Italian influenced menu's and winner of the IMBIBE Italian wine list of the year 2013 on offer Jordan Frieda ex River Cafe and Tim Siadatan ex Fifteen provide Islington with an authentic yet modern trattoria experience.

Visit Trullo Restaurant here >>
Beagle

Hoxton's Beagle Bar Restaurant & Cafe is named after one of the old steam trains that ran on the original East London line in the early 20th century.
Opened in March 2013 by Danny & Kieron Clancy HOUSEWATER provided the still & sparkling water system from the start. Occupying three huge and beautifully restored railway arches finished with designer touches adjacent to Hoxton Station.
Head chef James Fergusons regularly changing menu offers seasonal British dishes.

Visit Beagle Bar Restaurant & Cafe here >>
Sager + Wilde

Michael & Charlotte Sager-Wilde found a permanent home at SAGER+WILDE 193 Hackney Road E2 after running a pop-up in Shoreditch.
This stylish wine bar (the bar counter is made from reclaimed cast iron pavement lights) offer a short daily changing list that reflects the owners enthusiasm for good interesting wines, together with a range of snacks and small plates to compliment.

Since it opened in Sep 2013 Michael & Charlotte have rightly received some excellent reviews. HOUSEWATER were really pleased to be here at the start of such an interesting venture.
Housewater at Hixter

We are delighted to provide the water offering at Hixter, the latest project of Mark Hix the celebrated chef, restauranteur, food writer and modern art lover. Located in London's Devonshire Square. It follows a similar concept to Mark's Tramshed in Shoreditch and now open for city diners.

Hix Hirst & Housewater



Back in the summer of 2012 Mark Hix chose Housewater to install their water system when he opened the Tramshed in Shoreditch. The superb industrial heritage space features the spectacular cock & bull installation by Damian Hirst. The Tramshed fast became a "must visit location" with it's successful stripped down steak and chicken menu, served by friendly staff in a relaxed atmosphere.

Mark decided to offer "bottomless still or sparkling water" at a nominal cost per head. This satisfies his eco credentials and provides a local charity with donations. The drinks list explains the concept as follows:- Housewater has been created to provide an alternative to bottled water, which may have travelled many thousands of miles, generating a significant carbon footprint en route to your table. Housewater is an eco-friendly, sustainable water system providing freshly filtered, chilled & sparkling water. We serve bottomless  in jugs, bottles or carafes that are reusable to support our ecological policies. Every time you buy Housewater we will make a donation to Art Against Knives, a charity that aims to provide a creative output for East London youth as an alternative to violent gang culture.
Hix Hix hooray for Housewater
We are off to the seaside. A few weeks after our installation in Shoreditch Mark Hix asked Housewater to provide a system at the delightfully positioned Hix Oyster & Fish House in lovely Lyme Regis. The constantly popular restaurant overlooks the harbour known as the Cobb and the sea beyond Mark's chosen charity here is not surprisingly, the RNLI.

Visit Hix Oyster & Fish here >>
Raymond Blanc visits the Housewater sponsored Design Lounge at Hotelympia


Housewater proudly sponsor The Design Lounge at hotelympia 2012

We are delighted to confirm that Housewater will be serving complementary Champagne and Housewater at The Design Lounge bar…
we look forward to welcoming you there…


Legendary Colmans of South Shields
Despite stiff competition from significant companies in our sector, Housewater beat of opposition to secure a new Housewater installation at The legendary Colmans Fish and Chip restaurant in South Shields. Colmans has the supreme achievement of being the current winner of The 2011 National Best Fish and Chip Award. Along with numerous other awards, Colman has a diners list straight from celebrity Who's Who.

As well as winner of Fish and Chip Shop of The Year No. 1 England, Colmans are also proud of being National Champion UK TV Food Heroes, Winner Best UK Takeaway at the BBC Food and Farming Awards 2007, Regional Winner Fish and Chip Shop of the Year, Sea Fish Quality Awards Holder and recommended by BBC Good Food Magazine and Olive.
Visit The Colmans Fish and Fish shop here >>
Seve Ballesteros Foundation Dinner

Housewater finished off their 2011 support to Cancer Research UK with sponsorship of the Seve Ballesteros Foundation Viva la Vida event which this year was held in the magnificent surroundings of The Natural History Museum. The Central Hall was transposed from Museum to an elaborate Charity Dinner venue in less that 90 minutes thanks to the incredible efforts of Rhubarb, the prestigious, London based, caterers.

The Guests included Jose Marie Olazabal, Jimmy Tarbuck, Sandy Lyle  and the former Formula One World Champion, Damon Hill. The event raised a staggering £340,000. The funds raised at Viva la Vida has taken the total raised by the partnership to over £2 million since its creation in 2009, making a serious impact to Cancer Research UK's brain tumour research.
Housewaters bottle design clearly provides a perfect product for just this style of occasion whilst also providing a sustainable alternative to branded bottled waters.
Visit Cancer Research here >>
Visit The Natural History Museum here >>
Housewater continue to support Cancer Research UK charity balls

On the 3 November 2011 HOUSEWATER continued their support of Cancer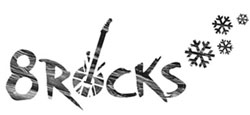 Research UK by providing Still and Sparkling water at the prestigious 8 Rocks Charity Ball which is the major event of the year, for Lawerence Dallaglio's DALLAGLIO FOUNDATION.
Hosted by the BBC's Jake Humphrey at Evolution Battersea, with entertainment from Rumer and Alison Moyet. The event raised a huge amount on the night with some fantastic auction lots available and was attended by many, well known personalities.

Then on Sat 3 December Housewater again provided their Eco Friendly Still and Sparkling water for Ronan Keating's  Emeralds & Ivy Ball which, celebrates the partnership between Cancer Research UK and the Marie Keating Foundation and has raised an incredible £3.3 million since it began. All of the money raised on the night from the exclusive auctions will fund vital mobile Cancer Information Units travelling across the UK and Ireland.
The charity ball raised £730,000 for Cancer Research UK and the Marie Keating Foundation last year, helping to fund two mobile Cancer Awareness Roadshow units, staffed by specialist nurses and health advisors.
This year's glittering list of celebrity guests included Ronan Keating, Leona Lewis, James Corden, David Gandy, Kara Tointon, Rod Stewart, Penny Lancaster-Stewart, Alan Shearer, Sharon Corr, Sol Campbell, Michael Flatley and Gloria Hunniford.   

Ronan Keating chose purpose-built venue Supernova in London's Embankment Gardens as the location for this December's Emeralds & Ivy event. The lucky guests witnessed an exceptional  show with Ronan taking to the stage and joined by Sharon Corr and James Corden for certain numbers. Talented violinist Diana Yukawa also performed. Followed by singing sensation Leona Lewis ,who performed some of her greatest hits in front of a showbiz audience.
At both these locations the Housewater designer bottles complimented the superb table settings created by Rhubarb Food Design at 8 Rocks and Planit Events/Mecco at The Emeralds & Ivy Ball
Housewater location awarded Gold Level by the Green Tourism Business Scheme

The Green House Hotel is the only hotel in Bournemouth to be awarded the highest gold level by the Green Tourism Business Scheme (GTBS) for its outstanding performance as a sustainable tourism business.

The leading sustainable tourism certification scheme in the UK, GTBS, assesses businesses against a demanding and diverse set of criteria, from energy and water efficiency to waste management and biodiversity. A qualified assessor, who visited the hotel in October, scored the business highly across all categories. 
The audit report commends the Green House Hotel for demonstrating a great commitment and staff awareness to being green and for its outstanding progress in
energy and water management and dedication to purchasing from local suppliers, wherever possible. The luxury four star hotel's commitment to green practices included from the outset a sustainable HOUSEWATER system which provides eco-friendly still and sparkling water instead of traditional bottled waters, therefore eliminating "water miles".
Commenting on the award, general manager Olivia O'Sullivan said: "We are thrilled to be recognized by the Green Tourism for our dedication to sustainability.
It is true that in this current climate it would be easier, financially, to relax our green practices but quite the contrary. As well as continuing to maintain our high green standards, we are looking into investing and introducing new practices to further consolidate our green credentials."
By installing a HOUSEWATER, system significant savings can be made whilst still maintaining your eco credentials.
Visit The Green House Hotel here >>
Housewater locations receive 5 star reviews

Both restaurants at East London's most impressive boutique hotel the Town Hall Hotel in Patriot Square Bethnal Green have been given 5 star reviews by Time Out London recently. Michelin starred Viajante and its baby brother Corner Room impressed the critics with innovative contemporary style of chef Nuno Mendez. These are extracts from the reviews:-
VIAJANTE "The hottest table in town a year or so ago, Bethnal Green's Viajante remains a fun destination for style-conscious gastronauts. Nuno Mendes's cooking is creative and forward-looking, yet firmly rooted in tradition and peasant foodways (he worked on the family's farm in Portugal). His native cuisine plays a part, but Japanese, Thai and South American flavours are just as likely to appear, as do molecular gastronomy ideas."
CORNER ROOM "Eating food by Nuno Mendes (whose first restaurant, Viajante, is also in this boutique Bethnal Green hotel) is an adventure. As any hobbit will tell you, adventures aren't for everyone – but we find it fascinating".

"No bookings are taken, so you'll probably wait for a table, and there's a 90-minute maximum stay – not enforced for our early week visit, even though the quietly arty, first-floor corner space was full by 9pm. Later diners began to experience delays, doubtless because of the amount of hands-on preparation required". HOUSEWATER are proud to have supplied stylish on site still and sparkling, eco-friendly, water systems throughout the, award winning Town Hall Hotel and restaurants since opening.
Visit the Town Hall Hotel here >>
Housewater location gains third rosette

 
Michelin Starred Terrace Restaurant at The Montagu Arms Hotel has received its third AA Rosette. Situated in Beaulieu in the heart of the New Forest, The Terrace at The Montagu Arms is one of the finest Michelin star restaurants in Hampshire and now boasts three AA Rosettes. A third AA Rosette is awarded to "outstanding restaurants that achieve standards that demand recognition well beyond their local area".
The Terrace Restaurant's Head Chef Matthew Tomkinson  is delighted with the news. Matthew strongly believes in "buying well and cooking simply". His menu is intricately prepared and designed to capture a delicious and exciting range of flavours, textures and aromas with the focus on seasonal ingredients sourced from carefully selected local suppliers and The Montagu Arm's very own Kitchen garden.
Signature dishes include:- Terrine of Marinated Free Range Chicken with Crispy 'Bon Bon', Toasted Caraway Bread and Chicken Liver Parfait. Assiette of Woodside Farm Lamb with Roasted Carrot Puree, Confit Potato Mille Feuille and Rosemary Oil.
Well done to Mathew and all at the Montague Arms Hotel Beaulieu from Housewater.
Visit the Montagu Arms here >>
Another Housewater locatio
n receives a Michelin Star

North Road restaurant in St Johns Street, Islington has received a much deserved Star in the recently announced
2011 Michelin Awards.
Danish born Chris Hruskova opened North Road in Nov 2010 and included a Housewater installation as an integral part of his extensive refit. Comparisons to that other famous Danish chef, René Redzepi of Noma, aren't too far off the mark, specialities include dishes like Norfolk deer loin with beetroot, burnt hay and smoked bone marrow.
A much deserved award. Congratulations from all at Housewater.
Visit the North Road Restaurant here >>
Housewater support the "Spirit of 66" Ball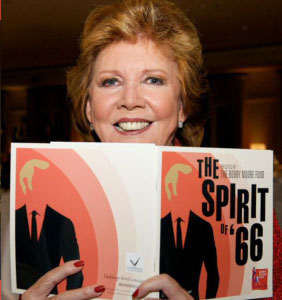 Housewater sponsored the event by providing still and sparkling water throughout the night served in their classic designer bottles. Over 400 guests joined Stephanie Moore MBE from the BOBBY MOORE FUND for an exciting night full of glitz and glamour at the Spirit of '66 Ball, and helped to raise an incredible £128,250 for vital bowel cancer research.
Event Patron, sixties siren Cilla Black OBE, and an array of celebrity guests, including Matthew Wright, Gaby Roslin, Paul Ross and Bob Harris OBE were among those who enjoyed the event. Live entertainment included a set from The Feeling with an amazing performance of original songs and sixties classics which drew everyone up and out of their seats!
Housewater

director Pete Turness said "as always we are pleased to support Cancer Research whenever we can at events like this"
visit: www.cancerresearchuk.org